Governance at a Glance
| Board Members | Audit | Compensation |
| --- | --- | --- |
| | | |
| | | |
| | | |
| | | |
| | | |
| | | |
Committee Charters
Yaron Eitan
Yaron Eitan is a prominent figure in the realm of technology entrepreneurship and investment, having co-founded Marpai and served as its chairman since the company's inception in February 2019. He is an integral part of the Marpai management team, contributing his extensive experience and expertise to the company's growth and strategic direction.
With a career spanning over 30 years, Eitan has established himself as a trailblazing entrepreneur and investor in both private and publicly traded companies. His entrepreneurial journey is highlighted by his role as the Co-Founder and Executive Chairman of DeepCube Ltd. since February 2018, and of Emporus Ltd. since February 2020, positions that underscore his commitment to driving innovation and success in the tech sector.
In addition to his involvement with Marpai, DeepCube, and Emporus, Eitan has contributed significantly to the growth and success of various companies. He has served on the board of directors of Nano Dimension since April 2020, showcasing his keep insights and strategic guidance in the realm of technology and innovation.
As the Managing Partner of Selway Capital, LLC since December 2008, Eitan brings a wealth of experience in investment management and strategic decision-making. His role as Co-Founder and Co-Chairman of 340B Technologies, a healthcare IT company that experience exponential growth to $40 million in just five years before its acquisition by a major private equity firm in 2020, further cements his success in the healthcare technology space.
Eitan's journey also includes impactful roles such as being a Partner at CNTP, a multistage investment firm, where he spearheaded Israeli investments. He also founded and chaired DVTel, which was successfully acquired by FLIR Systems in 2015, and Geotek Communications, a publicly traded company within the wireless industry.
Educationally, Eitan holds a Bachelor of Science from Haifa University and obtained an M.B.A. from The Wharton School of the University of Pennsylvania, solidifying his academic foundation in business and management.
Yaron Eitan's multifaceted experience, coupled with his entrepreneurial acumen and investment expertise, cements his influential role in steering Marpai and other ventures towards success and innovation in the technology and healthcare sectors.
Damien Lamendola
Damien Lamendola is a distinguished business leader with an extensive background in the healthcare industry. Appointed to the Board of Marpai on April 1, 2021, Lamendola brings a wealth of experience and expertise to his new role as the Chief Executive Officer.
Lamendola is the founder of Continental Benefits in 2013, where he served as the Chief Executive Officer until 2019. His visionary leadership and strategic acumen were pivotal in establishing Continental Benefits as a prominent player in the industry.
Since March 2002, Lamendola has held the position of President at HillCour Holding Corporation, formerly known as Welldyne Holding Corp. His tenure at HillCour Holding Corporation spans several years, during which he has meticulously overseen the strategic operations of multiple operating companies within the healthcare sector, showcasing his adeptness in steering complex organizations towards success.
Apart from his role as President, Lamendola has also been an integral part of the board of HillCour Holding Corporation since 2017, demonstrating his commitment to guiding and shaping the company's trajectory. His board memberships in WellDyneRx, LLC and HillCour Investment Fund, LLC since 2017 further underscore his involvement and influence within these organizations.
Lamendola's educational background is just as impressive as his professional achievements. He earned a Bachelor of Science degree from McNeese State University and later pursued an M.B.A. from Washington University, equipping him with a solid foundation in business management and strategic leadership.
With a track record marked by innovation and success in the healthcare industry, Lamendola's appointment as the CEO of Marpai heralds an era of strategic growth and visionary leadership for the company. His proven ability to navigate and lead complex healthcare organizations positions him as a formidable force in driving Marpai's success in the industry.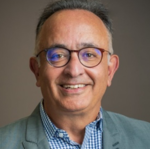 Mohsen Moazami
Mr. Moazami currently serves as the Chairman of Astrea Acquisition Corp (NASDAQ: ASAX), which works with technology-enhanced high-growth companies, and Vcinity, a private firm focused on high performance computing. Mr. Moazami also serves as senior adviser to Opengate Capital, a private equity firm, and the Board of Kestrel. Mr. Moazami has over 30 years of experience from senior operating roles, venture capital and advisory in Silicon Valley.
Mr. Moazami's previous roles include founder and CEO of Stanford Business Systems and twelve years at Cisco, the last four of which were in the leadership of their Emerging Markets division, with $6 billion of revenue. Mr. Moazami also co-founded CNTP, a global multi-stage technology investment firm, investing in security, cyber security, big data analytics, gig economy and SaaS applications. Additionally, Mr. Moazami served on the Board of a telecommunications company, Global Capacity, where he helped oversee a turnaround of the business, a $150 million acquisition and the ultimate exit of the company. Mr. Moazami graduated from Stanford University engineering school.
Colleen DiClaudio
Ms. DiClaudio has served as President and Founder of 340B Technologies d/b/a Nuvem since August 2014, and she continues to serve in this role. Ms. DiClaudio also continues to serve SRAX, Inc. as a member of its board of directors since September 2017, and she served as Vice President of Business Development of CompleteCare Health Network from June 2009 through August 2014.
As President and Founder of 340B Technologies DBA Nuvem, Ms. DiClaudio oversees day-to-day operations. She received a Master's Degree of Public Health from the University of Medicine and Dentistry of New Jersey and a Bachelor's Degree in Public Health from Stockton University.
Sagiv Shiv
Sagiv serves as Managing Director and the Head of M&A and Advisory Services at ACP Capital Markets, LLC. He has led multiple M&A teams and advised governments, agencies, private and public companies, and financial institutions with a focus on cross-border and international assignments. Before moving into investment banking, Sagiv served as CFO of multinational diversified holding companies. Sagiv currently is the chairman of the audit committee of Lomiko Metals Inc. (TSX-V:LMR) and has served on the boards of several publicly traded companies, private entities, and charities. He has been published and interviewed in many finance publications, is a frequent conference speaker, and lectures at the IESE Graduate School of Business and the Griffith School of Management at Emanuel University. He is a member of the American Finance Association and the Financial Management Association, a recipient of the 2014 M&A Deal of the Year Award by M&A Advisor and 2019 Turnaround Deal of the Year Award in Healthcare by Turnaround Management Association and holds a B.Sc. in Finance and Ph.D. International Finance.
Mike Dendy
Mike Dendy is a distinguished veteran in the healthcare industry. With over 30 years of experience in healthcare benefits, Mr. Dedy is a seasoned leader who has excelled in both administrative and cost containment functions.
A trailblazer in the field, Mr. Dendy previously built HPS Paradigm administrators into one of the country's premier Third-Party Administrators, showcasing his acumen in transforming organizations. His remarkable journey continued as he founded and developed Advanced Medical Pricing Solutions (AMPS) into a national leader in healthcare cost containment. Through innovative medical billing review and reference-based reimbursement services, Mr. Dedy's leadership at AMPS resulted in substantial annual savings for clients, amounting to tens of millions of dollars.
In 2004, Mr. Dendy's entrepreneurial spirit led him to sell HPS Paradigm Administrators, marking another successful chapter in his career. Currently serving as the CEO of CarynHealth, an exceptional alternative benefits company, he has played a pivotal role in its exponential growth since its inception four years ago.
Mike Dendy's wealth of experience and innovative approach to healthcare benefits make him a valuable addition to our Board.